How do I register a Yodeck player?

Plug 'n Play

Yodeck comes with all the Yodeck Players you need for FREE. No need to install software, manage PC units, ensure compatibility, and so on. For each screen you are managing under any annual plan, you will be receiving a free plug 'n play Yodeck Player. And it will come preconfigured, with network settings, WiFi, etc. all ready to be used!

First of all, you have to connect the Yodeck player with your network and your TV monitor.

If you do not have an Ethernet cable to use, please use the WiFi Wizard instead by following this guide
here
.
Connect the player to your network (router/switch) by using an Ethernet (LAN) cable.


Connect the player to your TV screen by using a mini-HDMI-to-HDMI cable. Use only the left HDMI port as shown below.





Power ON the player by plugging the PSU cable to a power socket wall.

When you Power ON the player (while connected to the internet and with the HDMI cable), you will see an 8 digit registration code on your TV after a few minutes.
It will be an 8-digit code like this example: "1234-5678".

If you have ordered the Yodeck players from us, the players will be shipped pre-configured with your account's settings. They will auto-register and pair with your account when they have an internet connection.
There is no need to worry if you do not see a registration code on the screen from a preconfigured player.

If you don't have a created a monitor entry in your Yodeck account, create one by clicking:
Monitors-> +Add Monitor
Type a Name for your monitor and also type the Registration code displaying on your TV screen in the relative field as shown below: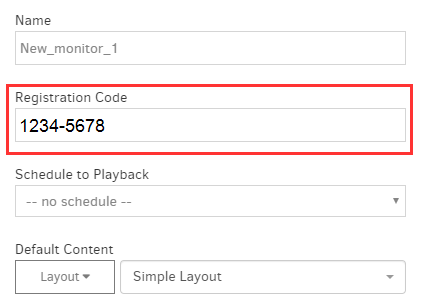 After done typing the Registration code, click the "Save" button. The player will pair with your account within 1-2 minutes. After a while, you will see it online on your dashboard, displaying the assigned content.

Related Articles

Does Yodeck support a web-based player?

Of course we do! Think of the Web Player as one more way of getting Yodeck digital signage on your screens. Specifically, if a device, such as a tablet or PC, has a Chrome-based web browser, including Chrome, Chromium, and Edge, then the Web Player ...

Does the Yodeck software image work on the Pi 400?

Yes, the Pi 400 will work just fine with the Yodeck software! Feel free to flash the SD card using the below guide. https://www.yodeck.com/docs/creating-a-yodeck-player/player/

What is a Yodeck Player?

Yodeck needs a device that will handle the playback of your media onto your monitor. We designed our own plug-and-play device, which we call the "Yodeck Player". With the "Yodeck Player" you get: A Raspberry Pi 4 mini-computer, including a ...

What if Yodeck Player fails?

There is a limited worldwide warranty of 1 year on a Yodeck Player. If your Yodeck Player is eligible for replacement, you can ship the failed Yodeck Player back to us and we will send you the replacement unit as soon as possible. Shipping costs for ...

How do I order a Yodeck Player?

Sign in to the Yodeck Portal and from the top-right menu select "Get Yodeck Player". Any Yodeck Player you order will be preconfigured with your account details so that you can simply plug it in and start "yodecking"! If you need any advanced ...